Support from White Rabbits, The Big Pink & Lily Allen
After blowing the minds of everyone that attended Glastonbury this summer; the prodigies of live music return with a tour of colossal proportions to do exactly that all over again. They've been playing huge spots for a while now but each time they do, they bring a brand new spectacle and tonight 85,000 fans have packed out Wembley Stadium in order to witness it. But first things first, those lucky support acts. Starting things off are up and coming New Yorkers White Rabbits, who may not be familiar with playing huge shows but they surprisingly manage to fill the space with their indie-pop melodies. The band's set up is far from conventional with two drummers and a lead-singer pianist (equipped with a great live voice) but it seems to work. They treat the early birds to a snippet of their second record 'It's Frightening' and save the best 'til last as they play out with critically acclaimed single 'Percussion Gun'. The Big Pink turn up the heat (and bass) as they take to the stage with 'Too Young To Love' followed by the incredible 'Velvet'. Their distorted, piercing electo-rock anthems effortlessly fill the stadium, proving that they could easily play venues of this magnitude on their own in the near future. Slightly drifting away from tonight's conventions is Lily Allen who definitely puts on a better show than the last big gig she did at Wireless, but even she admits that this is probably her only chance of playing this venue. A quick cameo from Professor Green and a few dubstep remixes thrown in makes her set passable.
With the crowd satisfactory hyped, the band everyone came to see appear amongst a crowd of acting political protestors holding signs with lyrics taken from 'Uprising'. Thankfully they disappear within a few minutes and we get to see the band play free of theatrics as they burst into the song followed by 'Supermassive Black Hole'. But of course this doesn't last very long; it's just not Muse's style. The show is certainly out of this world, and I mean that in a literal sense. At the introduction of 'Exogenesis: Symphony Part 1: Overture', a huge inflatable UFO floats through the air until an actual real person pops out of it and acrobatically dances their way around the stadium, simultaneously sprinkling glitter over the crowd. The stage itself looks like something E.T would live in and even their attire fits the theme. Drummer Dom Howard rocks skin-tight silver spandex whilst vocalist Matt Bellamy dons a sparkling silver suit and later steps out head-to-toe in glowing lights and flashing sunglasses to match. Style is something this band are not shy of and tonight they're not afraid to show it.
They perform newest songs 'Resistance', 'Uprising' and 'Neutron Star Collision (Love Is Forever)' which obviously weren't heard the last time they were here. They go down well; 'Resistance' in particular, but it's the classics that send everyone into Hysteria (excuse the pun). 'New Born', 'Plug In Baby' and 'Time Is Running Out' notably stand out but it's not until an explosive performance of 'Stockholm Syndrome' that I am convinced they are possibly the best live act I've ever seen. As one of the heaviest, anthemic songs they have produced to date, it proves to be a highlight. After a second encore, they conclude with an atmospheric 'Knights Of Cydonia' which predictably provokes the loudest crowd sing-along of the night. There's no doubt that Muse are firmly holding on to their commended credentials as a world-class live band, but what is admirable is how confidently and effortlessly they are doing it. The only question is, now that Earth has been conquered where can they go from here? If this band are anything to go by, Mars is not far off the radar...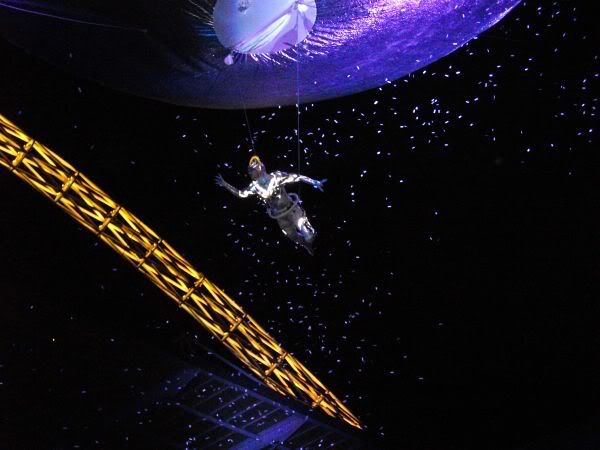 See this review on Clink Magazine:
http://clinkmusicmagazine.com/2010/09/10/muse-at-wembley-stadium