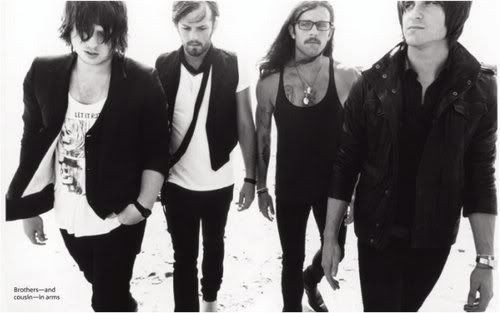 Three brothers and a cousin, sons of a preacher, raised in a deeply religious Christian family are probably not the most likely of people to have indulged in sex, drugs and rock n' roll, but this band certainly have. Back with a brand new album, new sound and new objectives, the finest thing to come out of Tennessee since Jack Daniels, are about to take on the world.
The Followill clan certainly gave the world a lot to talk about throughout 2008. It seems as if what were once an understated rock n' roll band from the remote countryside of Nashville, Tennessee, have unquestionably become one of the biggest rock acts of the decade. Whoever wants to question that only has to look at the facts: their fourth album 'Only by the Night' went straight to number 1 in the U.K, Ireland and Australia and has stayed in the charts since its release in September. Earlier this year, they sold out London's O2 arena in four minutes, quicker than the mighty Led Zeppelin. Last summer they graced the stage of three major U.K festivals, treating us to a particularly remarkable headline performance at Glastonbury.
The U.K has been number one fans of the Kings since the very beginning, but their native land has not been as easy to please. In the States, their previous albums charted at a measly 113, 55 and 23 respectively. Its seems like they'll have to be overshadowed by Miley Cyrus and the Jonas Brothers for a little while longer, just until they realise they inhabit one of the world's future greatest bands. 'Only By The Night' did however make a swift appearance at number 5 in the American chart, so it seems like they are, finally receiving some of the recognition they have been longing for.
'Only by the Night' is arguably their best masterpiece to date. According to vocalist Caleb, most of the songs were written whilst he was on pain medication after undergoing shoulder surgery. This has clearly had an influence on the lyrics as there is almost a hallucinatory feel, particularly with the mythical essence of 'Closer'. The metaphorical trilogy is a powerful opener, probably the best thing they've ever done. The epic power of 'Crawl', a song distorted by a strong bass; offers a comfortable juxtaposition to its lyrically political meaning. The sensual chorus and self-explanatory lyrics of 'Sex on Fire' hints that this will be a definite crowd favourite. The immensity is balanced effectively with beautiful power ballad 'Use Somebody', a tale of loneliness and anguish. 'Manhattan' is probably the most similar to their previous work, audibly illustrating a resemblance to 'Arizona' from 2007's 'Because of the Times'. 'Be somebody' is carried by hard drum beats and passionate 'in your face' lyrics but then slightly disappoints with the chorus. This is later redeemed however with the heavy melodic ending. '17', ambiguously a story of having to leave a young lover, starts well until bells and chimes kick in; from then on it could almost be mistaken for a Christmas carol. 'Cold Desert', is a poignant, sorrowful fable, beautifully structured with Caleb's raw wail and brutal emotion: "Jesus don't love me, no-one ever carried my load". It's a suitable conclusive track for a well-written, compelling album. In an interview on the band's website, Caleb states that he was "very drunk" when they recorded the song. But whilst listening to it the next day (after having no recollection of it) he explains how he "almost cried". It was then chosen for the album, and the original vocals were never re-touched to ensure the pure honesty of that moment was captured. It's a shame that they will never recreate their original, raw, southern rock 'n roll sound from their debut, but this album is in a different league and certainly has all the right ingredients to make it an instant stadium success. However, something tells me that we still haven't seen the best of them yet. But for now, the Kings can at last, deservingly claim their crowns.