Glastonbury. Famously known as 'the mother of all festivals, 'the muddy one', or more colloquially 'Glasto', it is globally recognised as one of the best festivals in the world and this year it lived up to its reputation more than ever with an incredible line-up. Not only did Blur make their enormously anticipated comeback, but Bruce Springsteen and Neil Young returned to show the world they still have it.
Friday saw performances from the likes of Lily Allen, Friendly Fires, White Lies, Doves, Jamie T, Jack Penate, Jason Mraz, N.E.R.D, Bloc Party, Lady Gaga, The Maccabees and Neil Young. My favourites consisted of Friendly Fires who always put on a spectacle and this was one of their finest. Ed's hip shaking was on top form as usual. I loved how much energy Jack Penate had during his performance. Still waiting for his new album to grow on me, but I'll always be a fan of his first stuff like 'Spit at stars' and 'Torn on the platform'. These were definitely the songs enjoyed by the crowd the most. White Lies were faultless as usual and 'Death', my favourite song off their album, sounded better that ever. I was unaware until now that Jamie T is such as incredible live performer. The crowd sang every word to every song. Pure genius. Lady Gaga, probably the most talked about person of the day. However, that seems to be more because of what she wore (or didn't wear) than her actual performance. The long winded introduction was a bit too er long winded but she showed us why she has the biggest selling debut album of the year by busting out hits 'Just Dance' and 'Poker Face'. I didn't realise before, but she actually has a really good live singing voice, and she can play the piano rather marvellously. Not sure about the haughty character and wild fashion style, but you can't criticise much else.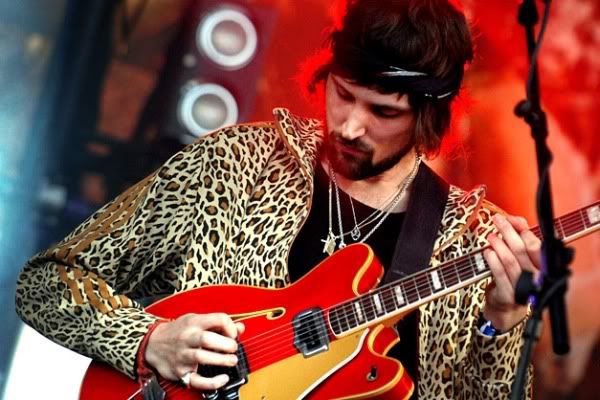 Saturday was definitely the day with the most prestigious line up with acts such Florence and the Machine, La Roux, Kasabian, Pendulum, Jarvis Cocker, Pete Doherty, Franz Ferdinand, The Script, Dizzee Rascal, Paolo Nutini, White Lies, Maximo Park and Bruce Springsteen gracing the stages. Florence and the Machine's set was commended as one of the best of the day, it was definitely brilliant but for me Pendulum stole the show. They blew up the stage with another insane electrifying performance. I didn't think they would outdo their Reading 2008 set so quickly, but being on the main stage gave them the opportunity to be as big as they are. Their remix of Calvin Harris' 'Not Alone' was mind blowing. The Script are a band that have come so far over the last year. Almost everyone in the crowd sang at the top of their voices to 'The man who can't be moved' and during a pause in their set they were given an ovation as vocalist Danny looked onto the crowd with disbelief and overwhelm. Well deserved in my opinion. Franz Ferdinand had tough competition from The Boss as they shared the same time slot. But I was pleasantly surprised to see a huge turnout for them. This was probably the best I have seen them play live yet. Bruce Springsteen's long awaited first U.K festival appearence finally took place at Glastonbury on Saturday night. He amazed the crowd with an electric headline show and gave them more of a treat when he got intimate and stood within the crowd. However, controversy and disappointment was caused when he didn't perform his legendary classic, 'Born in the USA'. It was a shame for devoted fans in the audience, but I don't think you can complain after a show like that. It took Paolo Nutini's Glasto' performance for me to realise that I like his new stuff so much better than the songs from his debut. Before he sounded like anything else out there but now he seems so have found his musical forte that shows off his incredible voice, and it certainly suits the cheeky chappy he is on stage. Here he put on a great show and was shown a lot of love from the crowd. Also, I didn't realise how beautiful he actually is. Another act that really stood out for me was Kasabian. I was glued to their performance from start to finish. A part of that is down to the fact that Serge Pizzorno is one of the most perfect men I have ever seen, but it was mostly because they put on one of their finest shows to date. Their set was mostly made up of songs from their two earlier albums, but these seemed to be outshone by new track 'Fire' which was incredibly received by the crowd. They definitely deserve those Wembley's they've got coming up.


Sunday saw in the likes of Glasvegas, Ladyhawke, Enter Shikari, Bon Iver, The Prodigy, Yeah Yeah Yeahs, Chase & Status, The Wombats, Bat For Lashes and High Contrast. The acts that stood out for me were Glasvegas, who now that i've seen live, I appreciate their music so much more. They have a timeless sound; one which I have began to fall in love with. They did a cover of one of my all time favourite songs 'Be my baby' by The Ronettes, simply beautiful. Ladyhawke was one of my favourites on the day simply because I love her music. I must have played her album at least once a day over the past few months, will never get bored of it. Also Enter Shikari, who are a band that have just blown up over the last three years. I remember when they were a band only spoken of by the Myspace generation but now here they are playing Glastonbury festival. Okay, yes the first 5 rows of the crowd were dominated by teenagers who knew all the words and the 'clapping' bit of 'Sorry you're not a winner' and everyone else seemed to not have a clue who this screaming, energetic four-piece were, but they still observed and seemed to enjoy it. That's what I like about Glastonbury, there's no throwing rotten tomatoes (or bottles of piss) at bands you don't like the sound of, instead people give it a chance or just leave. The day also gave us performances by some oldies but goodies such as Madness, Status Quo, Nick Cave and the Bad Seeds, Tom Jones and Echo And The Bunnymen. Madness were on top form and the crowd loved every second. Status Quo so still have it. As my mum's favourite band I am quite familiar with their stuff and during 'Rocking all over the world' they had us dancing around like crazy people. Tom Jones may not be able to dance like he used to, but he sure can sing. So many classics in one set, he was appreciated by the crowd and creator of Glasto himself, Michael Eavis, who watched from the side of the stage. Bruce Springsteen and Neil Young proved they were worthy headliners by putting on superb shows, but Blur were the ones that had everyone talking. A record number of people came to see this band make their comeback on the pyramid stage and they didn't disappoint. They performed all their classics and particularly wowed the crowd with 'Song 2', 'Parklife' and final song of the night, 'The Universal', which provoked a mass sing along. It's just like they never went away.

(Source: nme, bbc, boston.com)