I've been to many gigs and seen various amazing bands over the last fewyears but I feel they are not all fresh enough in my memory to do them justice in writing now. Instead I have chosen three of my favourites from last year to summarise; One Night Only, Nick Harrison and Cass Lowe at Norwich Art Centre, 26th January 2008, Lostprophets at Norwich UEA, 12th June 2008 and Pendulum at Reading Festival 2008.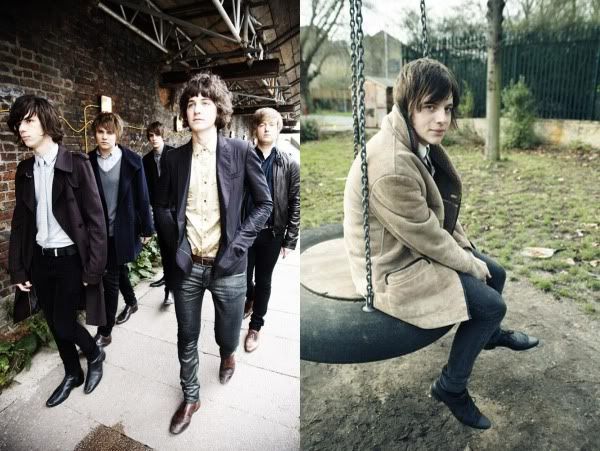 source: Myspace

One Night Only, Nick Harrison & Cass Lowe, Norwich Arts Centre.
I was lucky enough to discover One Night Only just before they became popular common knowledge. I believe Myspace is to take credit for this. I was browsing Pigeon Detective gigs and found out One Night Only would be supporting them on their 2007 October tour. I almost always do some background research into the support bands before a gig because I'm not too keen on unpleasant surprises. In this case however, the surprise was far from this. I was impressed by their professional charisma for such a young band and I instantly fell in love with their bouncy-indie summer track 'You and Me'. I was thrilled when I found out they would be doing their first U.K tour the next spring. I remember arriving at 8pm and actually being the third person there. Luckily for me, this meant I could watch from the best spot in the house. The first support was Cass Lowe who's folkly, acoustic set was a lovely start to the show. I really liked his voice and made sure I left with one of his demos after the gig. Nick Harrison took the other support slot and I instantly fell in love with his music; a wonderful mix of ska, indie and progressive sounds with even a slight influence of reggae. I am still glued to 'Oi rude boi' and 'Summer' to this very day. One Night Only soon followed and stole their thunder back; and rightly so. By this time, the intimate venue was filled to the brim of mainly people much older than myself. The atmosphere was so different to any other gig I had previously been to. There were no boppy teenage girls knocking over your drink or screaming in your ear (except for myself on a few occasions) but just a room full of people who were there to enjoy the music. The mood was so relaxed at one point, that vocalist George started talking to my friend about Soccer Am, during the set. The band played through songs from their (at the time) unreleased debut album 'Started A Fire' and treated the crowd to a surprisingly good rendition of 'About You Know' by the Sugababes. Overall a fine set by a bunch of talented young guys; potentially the next Kooks.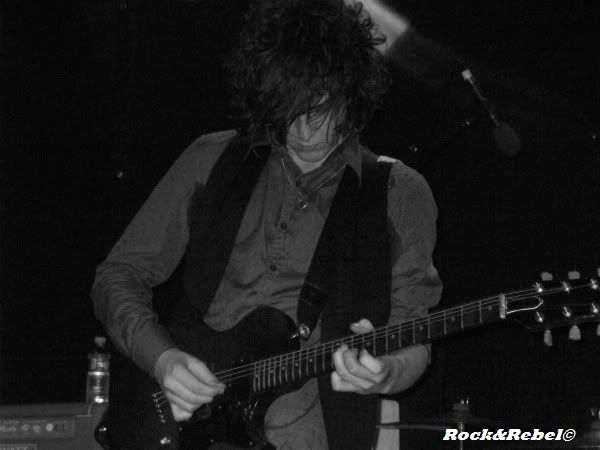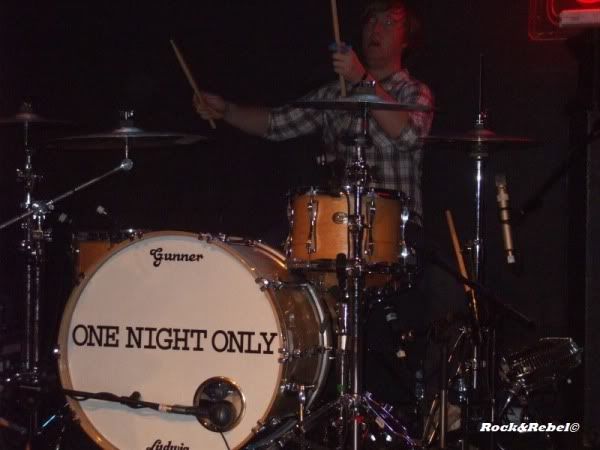 Lostprophets, Norwich UEA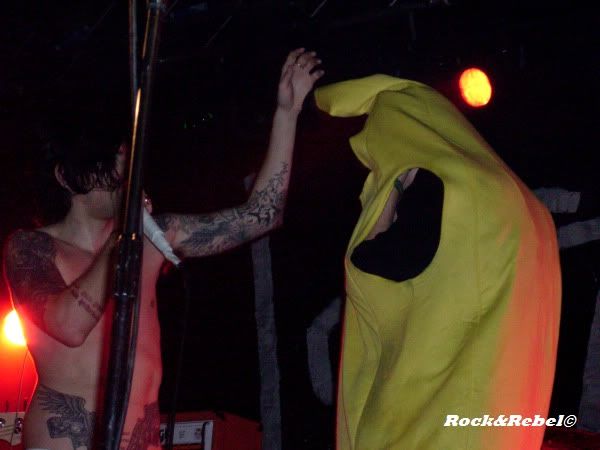 Lostprophets have been a favourite band of mine for quite some time now and they were the first big rock band I ever saw live years and years ago. I love everything about them; their on-stage persona, their sense of humour, their charisma, that lovely welsh accent and of course their music. I've seen them a few times now and the London Astoria shows will always hold a special part of my memory because they always has an incredible atmosphere. However, I definitely had the most fun when I saw them at Norwich UEA in June 2008. Meeting some of them and being front row definitely contributed towards this and the fact that their set-list was made up of more of their heavier songs (as this was a warm-up show for their headline slot at Download Festival) had a notable effect on the crowd. One of my highlights of the gig was when Ian Watkins invited a man in a banana suit on stage so that he could dive into the crowd during the intro of 'Shinobi'. Instead, he got a bit excited and jumped far too early. The song was the most anticipated of the night and went down a treat. However, it was during the last song 'Burn Burn' when we were really treated. Ian decided to dive into the crowd where he proceeded to be swallowed by the boisterous mob of kids that lie beneath him. Not one of his finest decisions, but I'm assuming he underestimated the strength of a Norwich crowd. Once the song finished, Ian, by this time shoeless, was still nowhere to be seen and this provoked Jamie and extra security to get involved. He was eventually airlifted to safety by the fanatical crowd where he thanked us all for coming and then referring to the funky high tops he was sporting during the gig but subsequently not after, he told us not to "steal shit". He must have forgotten he was in Norfolk.
And the commotion still didn't end there. I then experienced a confrontation with a guy who caught Ilan's drumstick at the same time as me, I calmly and nicely told him that he better let go and without hesitation he obeyed (ok there was a bit of wrestling, but I succeeded in the end). Then as I left, I reached into my pocket and as luck would have it, I had unintentionally caught Mike's guitar plectrum. Yay.
Pendulum, Reading Festival 2008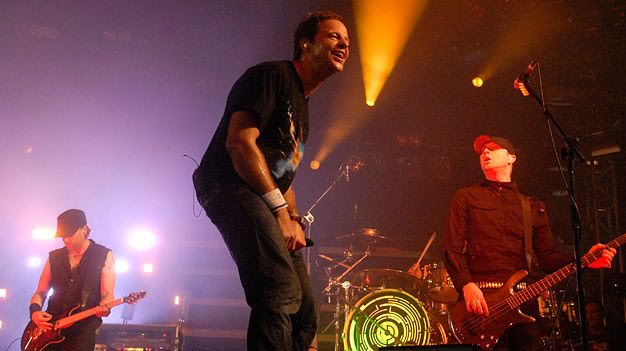 Source: BBC
Last year the line-up for Reading was a big one with Rage, The Killers and Metallica thrashing the main stage. However, Pendulum's live set on the NME/Radio 1 stage was definitely the main highlight of my festival experience. Before the band even came on the tent was packed to maximum capacity and bulged at the sides as many more people gathered outside. They were only a few seconds into the first song when the huge crowd-surfing mass of chaos began. By the middle of the set, security at the front had quadrupled and people were fainting every few minutes. Pendulum played a heavy set of their most popular electronic-rock, drum and bass anthems with 'Blood Sugar' and 'Fasten Your Seatbelt' causing the most stir within the crowd. At one point, I remember seeing James from Hadouken watching the set and then turning to the crowd with an expression like he'd seen a ghost. It wasn't until I returned home that I found out his look of unanticipated horror was as a result of one of the podiums holding the tent up, briefly catching fire (and I thought the smoke had been for effect!) From that moment I was quite thankful that I chose to stand at the front on the barrier. Undoubtedly the craziest crowd I have ever stood in and one of the best performances I have ever witnessed. The tent never drew in a bigger crowd throughout the rest of the weekend.
Relive the performance here: http://www.youtube.com/watch?v=B2UGf25XLQs

The Blackout, Kids In Glass Houses, Lostprophets, Panic At The Disco, All American Rejects, Mcfly, Beyoncé